Our Values
Corporate Philosophy
Kaji Technology contributes to the prosperity of all stakeholders, and economic development and social progress by using its technology to provide excellent products and services that society demands. Kaji Technology devotes itself incessantly to the research and development of technology, and organizes the company to compete in overseas markets and grow as a global company in this age of globalization.
Message from the President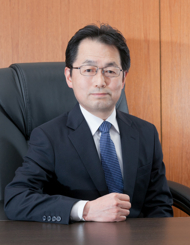 Born in 1905 as a textile machinery manufacturer in Osaka, Japan, Kaji Technology Corporation grew up now to be one of the leading manufacturer of high-pressure air and gas piston compressors of various applications, serving global market.
Our professional competence made it possible to successfully develop a hydrogen gas compressor of air-cooled oil-less type with discharge pressure of 110 MPa, world highest. This innovative development is highly recognized among industrial, engineering and academic communities. We understand that technical innovation is the essential task for a manufacturer to realize sustainable growth. We are determined to do continuous effort to meet day by day stringent and diversified needs of global market.
One of the feature of our company is that we have an integrated production facility, including design and engineering, welding, machining, assembling, testing and all the auxiliary facilities in a single location. This makes us possible to respond to any customers' requirements in a timely and efficient manner.
Environment is also an important area we have focused on. We are providing the market with environmentally friendly equipment, such as, Natural Gas compressors for fueling Natural Gas Vehicles, SF6 Gas Recovery System used for production and maintenance of substation equipment, and also High Pressure Hydrogen Gas Compressors for fueling Fuel Cell Vehicles with no CO2 emissions, which we envisage booming in near future.
I am proud of leading this organization and serving for the development of our society.