Observation by Hydrogen subcommittee
of Japan-China Energy Conservation and Environment Forum
 Kaji Technology Corporation ("KAJI") has received the visit of 43 observers, consisting of one of Chinese government bodies, Chinese National Development and Reform Commission, National Energy Administration, and big-enterprises leading the Chinese hydrogen-related industry.
 After the president, Suzuki's welcome speech, the business outline and KAJI's actions on the hydrogen-related business was introduced. Then, the visitors in four teams observed the ultra-high pressure compressor " HyKom340 " for hydrogen refueling stations. The supply potential of the above compressor for Chinese market and the technical features of the compressor were asked by the visitors so that it was a good opportunity to strongly feel the growing trend of the hydrogen-related business in China.
 This visit to was planned as one of the programs of the 13th Japan-China Energy Conservation and Environment Forum held by the Ministry of Economy, Trade and Industry (MITI) and the general incorporated association, Japan-China Economic Association in Japan on December 8, 2019. And this visit was strongly requested by Chinese side, based on high evaluation of technical capabilities of KAJI that has positively been engaged in the hydrogen-related business for many years.
 KAJI will further make efforts to realize the hydrogen energy based society as one of the leading companies in the hydrogen-related industry.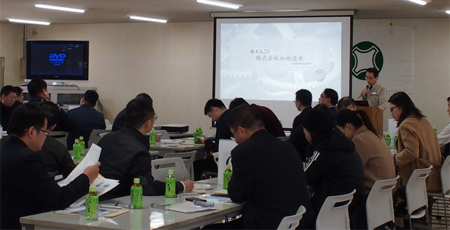 For enquiries,
Contact: Mr. Liu, Sales Dept. Tokyo Branch, Kaji Technology Corp.
Tel: 81-3-5679-6910